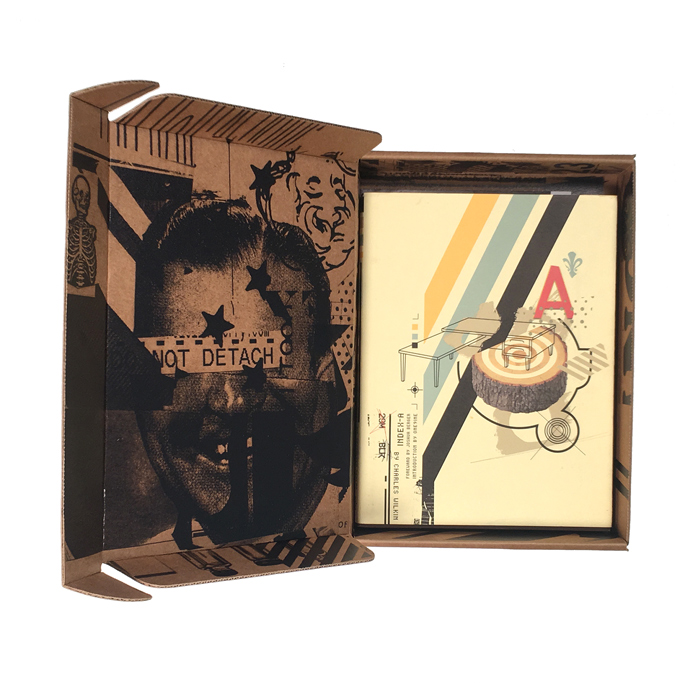 American collage artist Charles Wilkin is marking the 15-year anniversary of his influential first monograph, Index-A, published in April 2003 by Gestalten, with a new boxed set that includes a signed vintage copy of Index-A as well as Wilkin's two new monographs, Monuments and Dust and Meat on the Overhead, both featuring recent work, as well as a commemorative poster and custom printed box, all of the artist's own design. Only 15 of this hyper limited-edition set will be available for sale beginning Friday, 27 April 2018 exclusively via the artist's website.
Hailed as a collection of images, thoughts and intuition, Index-A has become highly collectible for its sketchbook-like feel and diverse exploration of Wilkin's groundbreaking collages, drawings, Polaroids and experimental typography. The raw and energetic quality of his early work is, in retrospect, the foundation for his monumental recent work. Many contemporary collage artists consider Index-A an important source of inspiration and credit it with helping bring collage out of the shadows of obscurity.
"Charles Wilkin is one of the artists that has shaped contemporary collage as we know it. Index A is one of the milestones that showed the possibilities the medium had to an insane amount of people worldwide 15 years ago, instantly converting people to collage making. But he hasn't stopped there, his work has continually evolved, developing a unique style full of rhythm, beauty and challenging ideas," says Max Tuja, Co-Founder of The International Weird Collage Show.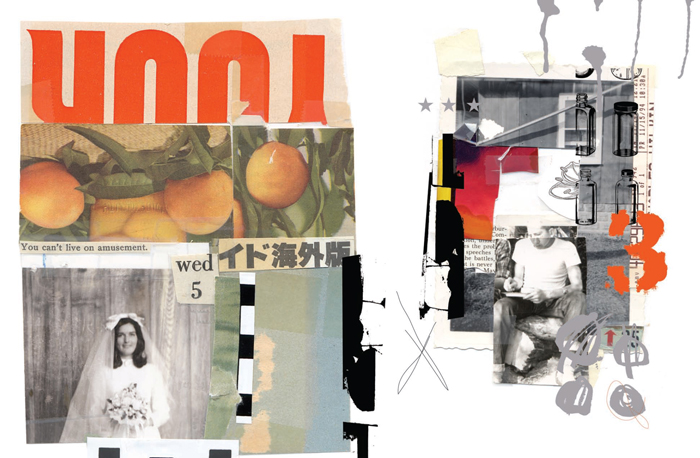 Monuments and Dust fast forwards with an in-depth survey of Wilkin's critically acclaimed collage work from 2010-2018. The title references society's endless need to build cultural monuments, only to be broken down and reconstructed into something new. A metaphor that parallels Wilkin's own restless exploration of collage as a means to challenge accepted perceptions, create new realities and revealing the unknown that hovers just beyond our senses.
"We are what we perceive, and meaningful work always transcends the confines we place on it, becoming something greater than itself. This is just one of the many ideals I feel are evident not only in the works presented here but also enhanced by the willful lack of a chronological order and purposeful juxtaposition," says Charles Wilkin.
Meat on the Overhead's zine-like qualities capture Wilkin's photographic work from 2003-2018. Here, Wilkin documents his observations while roaming the streets of New York City and many travels. His exceptional ability to find meaning in the mundane makes these images feel like sketches for stories, and ultimately find their way into his collages becoming his bridge between reality and the unknown.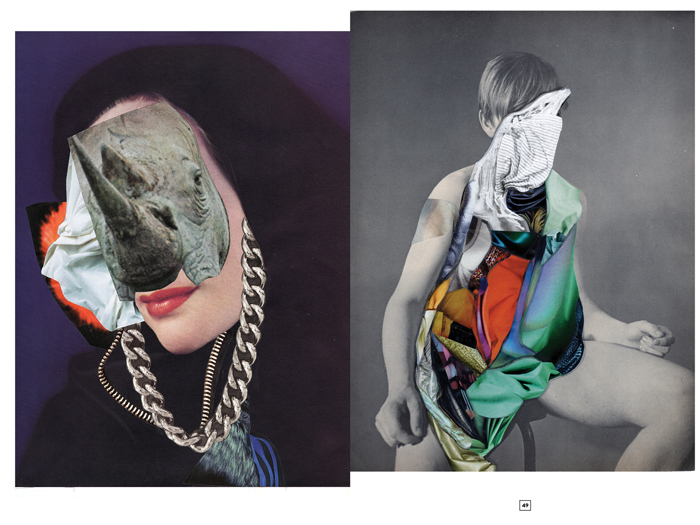 "These pages really do feel like places," says collage artist Fred Free in his introduction to Monuments and Dust. "Places within a larger place that Charles has created and populated with some of the most magical people we'll ever meet inhabiting a world like no other. Monuments and Dust is like his guidebook to that world and from the very first image that greets us, we get a glimpse of things to come."
What is crystal clear is this anniversary box set quickly moves beyond a memento, instead creating an informal timeline of Wilkin's most influential works. As the viewer travels between books, they experience first-hand Wilkin's untethered creative process spanning over 20 years. His unwavering passion for collage is undeniable as he continuously rewards us with his skillful dedication to detail, surrealist moods and lush storytelling, transforming discarded scraps from nothing into something truly captivating.
The anniversary box, in edition of 15, is available for $150 USD, starting 27 April 2018. For a preview and to learn more, visit www.CharlesScottWilkin.com/indexa.
Images (top to bottom):
Index-A, open box
image from Index-A
image from Monuments and Dust