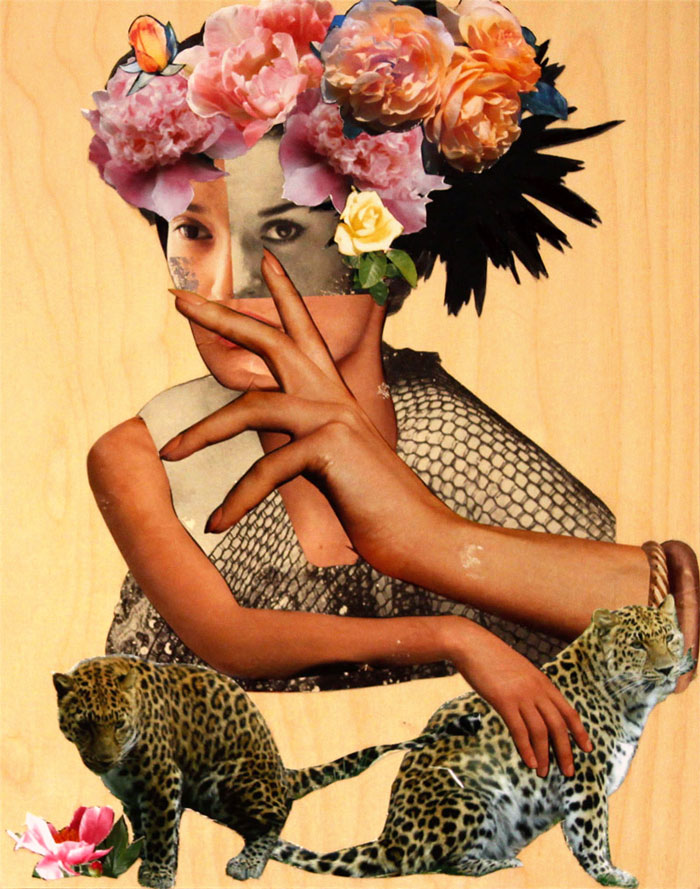 COLLAGE ON VIEW
Leah Dockrill: "Collage World"
at Deer Park Public Library in Toronto, Ontario, Canada
2-30 May 2018
"Collage World" is Toronto artist Leah Dockrill's exhibition of handcut collages. The collages range in size from 8″x8″ to 20″x16″ and are on canvas or birch panel.
Since first becoming addicted to this artistic medium, Dockrill has seen her collages evolving into three broad categories, all focusing more or less on women's lives: Victorian women, women of the 1950s, and contemporary women. Running through these broad themes is a faint thread of the surreal, and, the artist hopes, some empathy and humour.
Dockrill has been a visual artist for over three decades. Her art practice includes acrylic paintings and digital art as well as paper collage. Sometimes all three media are used in the creation of a collage. Included in this show of twenty pieces are some works that were first prepared with a phototransferred image, before the application of collage pieces.
Collage pieces are gathered from magazine pages, fine art papers, old family photo albums, the artist's original photography, and papers printed with her digital art images. In addition, she makes use of images that she has gleaned from public domain image libraries.
Leah Dockrill has been an elected member of the Society of Canadian Artists since 2000. She has exhibited her paintings all over Canada. This is her first solo show of collages.
See more of of the artist's work on her Kolaj Magazine Artist Directory Page, www.leahdockrill.net, and www.societyofcanadianartists.com. For additional information, please contact the artist via email at leahdockrill@sympatico.ca.
(adapted from the artist's press materials)
---
INFORMATION
Deer Park Public Library
40 Saint Clair Avenue East
Toronto, Ontario M4T 1M9 Canada
(416) 393-7657
Hours:
Monday-Thursday, 9AM-8:30PM
Friday-Saturday, 9AM-5PM
Image:
Two Are Easier Than One
by Leah Dockrill
14″x10″
collage with magazine pages and artist's original photography on birch panel
Image courtesy of the artist