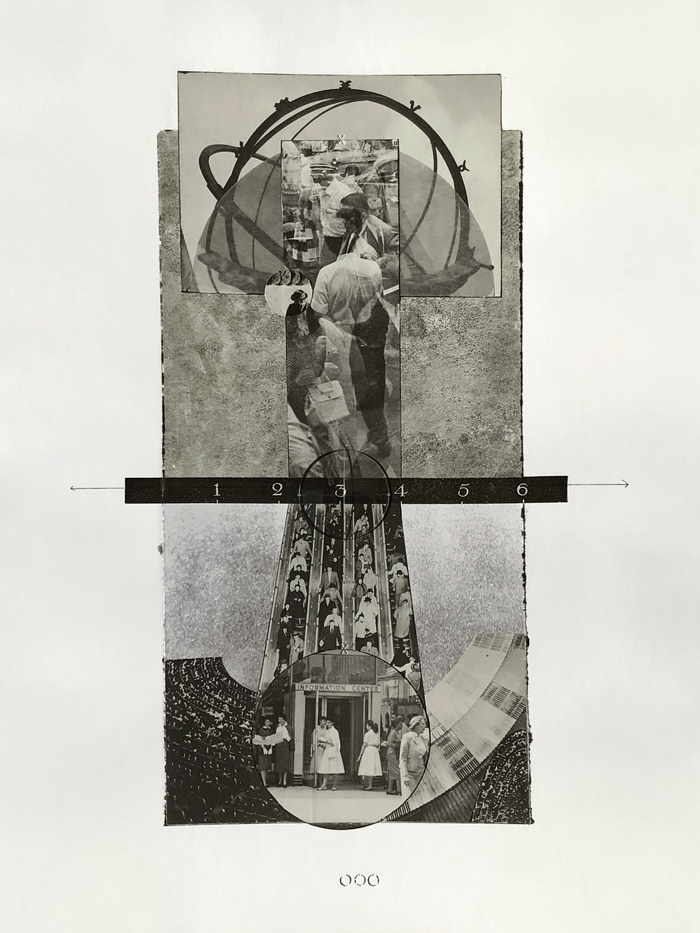 COLLAGE ON VIEW
Deb Goldstein: Can I Steal This
at Rice Polak Gallery in Provincetown, Massachusetts, USA
20 July-2 August 2023
"Can I steal this?" was the first thing Massachusetts collagist Deb Goldstein said to her cousin Paul Fitzpatrick-Nager when she looked at a stack of monotypes in his studio. They were beautiful and compelling in texture, line, landscape and composition and she knew she wanted to integrate them into her work.
She and Paul are from the same tribe–through family, but also aesthetically. Their work blends together through what they see and the history of how they arrived as people and artists. As she started to work them in, more and more it was clear that Goldstein wanted to center her next show around this affinity: appropriation with permission. Each piece tells its own separate narrative through this process.
Deb Goldstein's collage work centers on connecting complex images and layers to create a new whole. Her works are primarily paper ephemera and found objects that have been collected from her extensive travels, with drawing elements. Goldstein was one of fifty collage artists chosen by collage artist and curator Todd Bartel to be included in "Unfoldingobject" at Concord Art in Concord, Massachusetts, 20 June-11 August 2019.
(text adapted from material provided by the gallery)
---
INFORMATION
Rice Polak Gallery
430 Commercial Street
Provincetown, Massachusetts 02657 USA
(508) 487-1052
Hours:
Open daily, weekend evenings, and by appointment
Call (508) 487-1052 for more information.