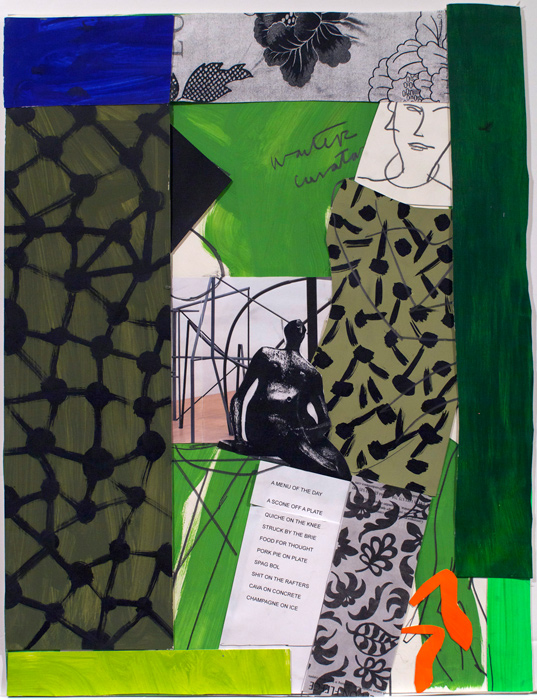 8 April-24 May 2013
"A Century of Collage"
Bernard Jacobson Gallery in London presents a survey of collage from its modern inception in the early twentieth century, to present-day explorations of the form.
The origins of collage are attributed to the early work of Picasso and Braque, beginning in 1912. Picasso's The Letter and Still-Life with Chair Caning and Braque's Fruit Dish with Glass (all 1912) are widely considered the very first instances of collage or papier collé. Throughout the twentieth century, collage was used to aesthetic and political ends to explore the disruption and discontinuity of the modern world.
Highlights of  "A Century of Collage" include works by Giacomo Balla, Roy Lichtenstein, Kurt Schwitters, Joseph Cornell, Mimmo Rotella, Conrad Marca-Relli, Robert Motherwell and Tom Wesselmann. Balla's Attenti Alle Spie… from 1915 is the exhibition's earliest work, followed by the great collagist Kurt Schwitters here represented by two of his merz works, Mz 26, 45 Sch (1925-6) and Last Birds and Flowers (1946). A significant figure in European Dada, Schwitters is most famous for his abstract collages, which he began in 1918 using found and everyday objects such as labels, bus tickets, fabric and bits of broken wood.
Moving into later examples of collage, British artists represented include Peter Blake, Richard Hamilton and Eduardo Paolozzi; and American artists include Conrad Marca-Relli, Robert Motherwell, Joseph Cornell, Tom Wesselmann, and Roy Lichtenstein. Joseph Cornell is represented by three collages: The Human Thermostat (c. 1960), Penny Arcade (1960) and Carrousel-Lanner Waltzes (1971). Following on from Schwitters' early explorations with found objects, Cornell is most famous for his box assemblages and collages, exploring surprising juxtapositions of materials and ideas that are usually associated with Surrealism.
Motherwell's The Brown Stripe from 1967 and Xylol, completed a decade later in 1977, are exemplary of his dedication to the form. His explorations with collage began in the 1940s when he was introduced to Peggy Guggenheim, who urged both him and Jackson Pollock to contribute a work to a collage exhibition she was hosting at her gallery in New York. Unlike Pollock, Motherwell discovered a passion and aptitude for the medium, and continued to make collages throughout his career.
Tom Wesselmann's Bedroom Collage Edition is a recognizable offshoot of his famous "Bedroom Painting" series. At the forefront of the American pop art movement, Wesselmann's iconic images of everyday popular culture are here explored in collage form.
Roy Lichtenstein's Collage for Brushstroke Sculpture (1981) is a later example of Lichtenstein's important contribution to American modernism. His Brushstroke series began in 1965, and was meant to parody Abstract Expressionism and the importance of gesture in this style. A tongue-in-cheek retort to some of pop art's biggest critics, the Brushstroke theme was explored in Lichtenstein's paintings, collages, and later sculptures.
Contemporary gallery artists exhibited include William Tillyer, whose Montparnasse Collage No. 14 was completed in 1998-1999, the same year he was shortlisted for the Jerwood prize; Marc Vaux, whose Untitled works from 2004-2005 explore geometric abstraction in collage form; and Bruce McLean, whose "Waiter Curator" collages (2012) (image above) were exhibited in his recent solo exhibition, "The Shapes of Sculpture" at Bernard Jacobson Gallery London in October 2012.
(adapted from the gallery's press materials)
---
INFORMATION
Bernard Jacobson Gallery
6 Cork Street
London W1S 3NX
United Kingdom
44 (0)20 7734 3431
Hours:
Monday-Friday: 10AM-6PM
Saturday: 11AM-1PM (except Bank Holiday Weekends and in August)
Image:
Waiter Curator
by Bruce McLean
mixed media collage on paper
2012
Image courtesy of Bernard Jacobson Gallery