COLLAGE ON VIEW
The Green Fairy & Sam Geuens: Circular Times
at Raad Vlaamse Gemeenschapscommissie in Brussels, Belgium
22 April-25 May 2022
The Green Fairy (Annemie Maes) and Sam Geuens present "Circular Times" to give an artistic expression, through analogue collages, on the circular sense of time after a long period of two difficult years in which we lived in separate bubbles and instead of moving forward, stood still or even went back in time. "We were all travelling separately in time and space, but without moving."
Our physical, personal and emotional worlds were highly influenced and changed by fear, solidarity, the media and political decisions. Before COVID-19 the experience of time was more linear and evolutions found their way more easily. Life and time moved faster, as it were. Because of the coronavirus and through the successive covid waves, life became more circular. We felt trapped in our living rooms, our bubbles and relived the same measures and fears with each pandemic wave. We were spinning around in circles a bit and had to reinvent ourselves and how to be happy.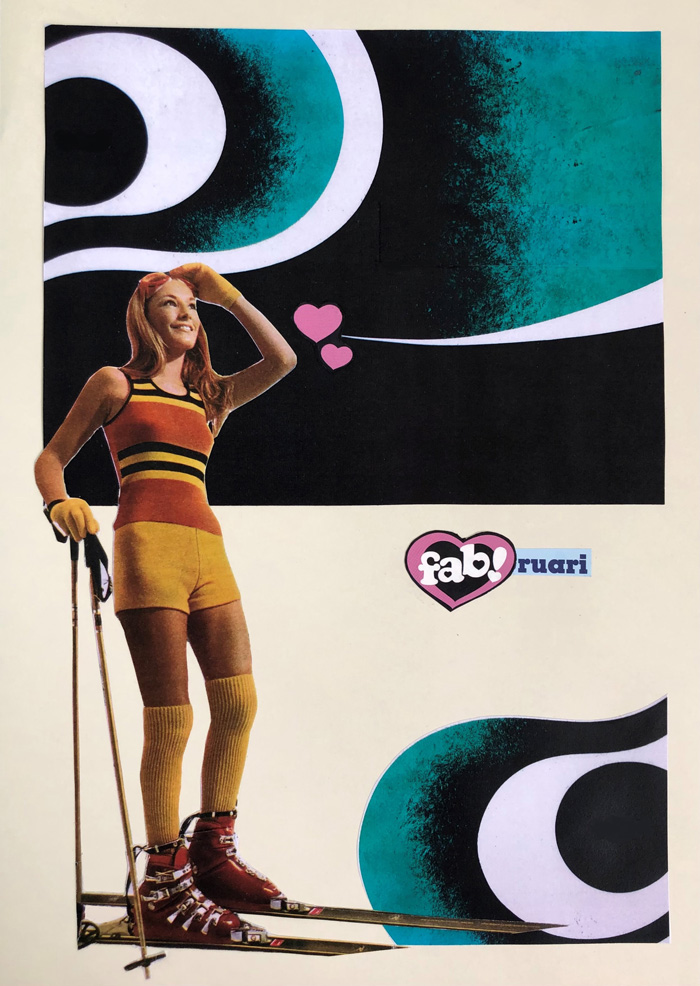 Many of us had to endure loneliness and financial difficulties or even grief. The names of those who died of covid were not even mentioned in the media. All the attention went to the numbers or age groups. We became numbers in a digital world, so to speak, and social deprivation alienated us from our human side. Also touching someone, or being touched, is one of the most primary human needs. Standing or sitting close to each other can bring atmosphere, joy and even comfort.
Now we still have to walk out of that long tunnel together and form groups and meet up, learn to trust each other again and dare to shake hands and give each other a kiss. And dare to dance with each other! And with this theme (dancing) we have come full circle and we are back to our exhibition "Rue DANS Art" of last year in the showcase of the same location, which gave expression to the ban on dancing during the lockdowns.
(text adapted from the artists' press materials)
---
INFORMATION
Raad Vlaamse Gemeenschapscommissie
Lombardstraat 61-67
1000 Brussels, Belgium
+32 (0) 497 32 41 18
HOURS:
Monday-Friday, 10AM-5PM