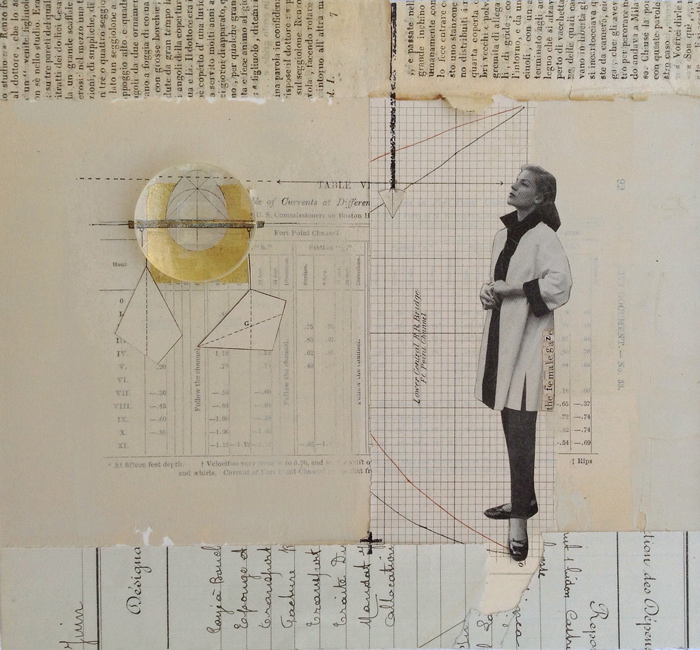 9-29 July 2015
Opening reception: Friday, 10 July, 7PM
Deb Goldstein: "What Sticks"
Massachusetts-based artist Deb Goldstein's "What Sticks" is the opening exhibition of the 2015 at Rice Polak Gallery in Provincetown, Massachusetts.
The visual landscape in collage shows continual decisions between the conscious and subconscious and Deb Goldstein's work are fine examples of this process. She works organically from the paper and objects that are present in her sights. There are no preconceived ideas in context or composition. She arranges and rearranges and builds a story out from a central image. She adds signature elements that give depth and layering to create complex images while following the order of line. The objects and paper come together to evoke a sense of age, memory and time. They are delicate, subtle and mysterious. Deb has traveled extensively to gather ephemera and objects from all over the world. A piece may center around a handwritten letter from Rome or a glass slide from Paris. Deb was awarded an Artist in Residence in Farnese, Italy in May of 2013. Working as a mixed media artist for more than 20 years, her work is in many private collections.
(adapted from the gallery's press materials)
To learn more about Deb Goldstein and her work, visit her Kolaj Magazine Artist Directory page HERE.
---
INFORMATION
Rice Polak Gallery
430 Commercial Street
Provincetown, Massachusetts 02657 USA
(508) 487-1052
Hours:
Weekends and always by appointment
Consult the gallery for weekday hours during the summer
Image:
The Female Gaze
by Deb Goldstein
9″x8″
paper ephemera, gouache, gold leaf, gold thread and glass lens
Courtesy of the artist and Rice Polak Gallery, Provincetown