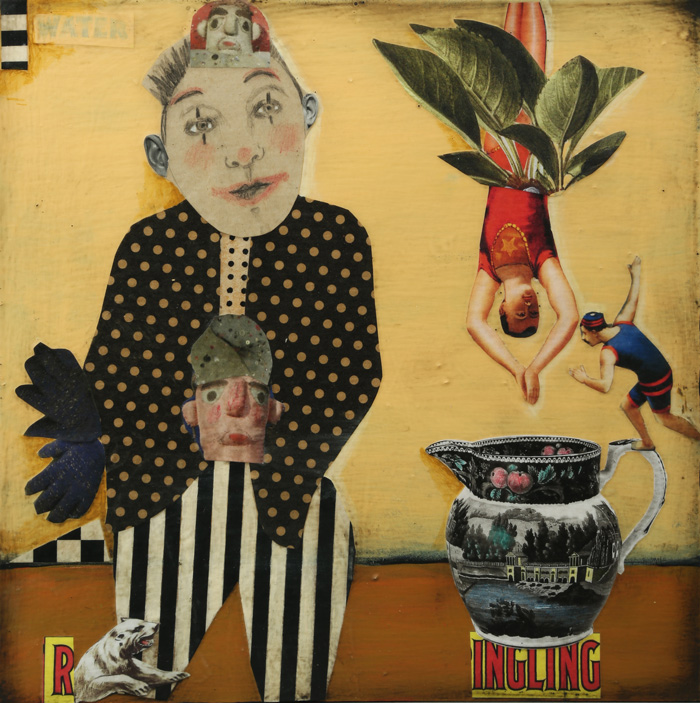 "Delicate Balance":
Marsha Balian, Irene Belknap and Jennifer Johnson
17 March-4 May 2017
With the recent closure of Ringling Brothers and Barnum and Bailey Circus, the word "circus" is changing from a noun to something merely descriptive. It is useful in describing many situations and perhaps current events, but an actual circus in the historic sense of three rings, animals, stunts and clowns may become a thing of the past. In "Delicate Balance", three artists balance tight rope walkers, stunt girls on horseback, clowns, jugglers, and brightly costumed performers in a circus of imagery. Painter Irene Belknap, mixed-media artist Marsha Balian and sculptor Jennifer Johnson are showing their art work.
Marsha Balian is a self-taught collage artist who frequently invents her own techniques. Her work often incorporates found objects, including what might be scavenged from the floor of her studio. Since invention doesn't require strict adherence to rules, her art avoids what might be literal and attempts to engage the imagination of the viewer. Humour is never far behind. Her "Big Top" series plays with and reinvents some of that imagery: animals piled on top of other animals, people jumping through the air, and clowns whose behaviour is unknown, but at least isn't scary. "The imagery, the craziness, the improbability of the circus has always intrigued me since I was a kid," says Balian. She is showing work from her new series, "Long Winded Tales from Distant Lands". Her artwork has been shown throughout the Bay Area and in many parts of the country. Learn more at her Kolaj Magazine Artist Directory page HERE.
Irene Belknap paints large, colourful canvases that use figurative images invoking a Cirque de Soleil style with associative meanings. Significant gestures in balance with an object are juxtaposed in sometimes unexpected ways; asking for the viewer's interaction. Belknap says, "My aim is to evoke a sense of the unknown where final meaning is withheld." Belknap was born in Munich, Germany, where she and her family were on the second boat out of Germany after World War II. After studying art in Austria, she went on to receive a BA in History of Art from Sweet Briar College and eventually an MFA from the San Francisco Art institute. She has shown her work throughout the United States as well as internationally.
Jennifer Johnson is a northern California artist who creates figurative sculptures that focus on the obscure and marvelous world of circus life. "I think the lure of the circus exists solely to ignite dreams. It's ornate, wonderful, ridiculous and full of mystery and whimsy, designed to surprise and delight. My innermost thoughts like to dwell in that real magic during the golden age of the circus," says Johnson. Her sculptures are shaped, formed and welded new steel and found metal objects including steel, bronze, copper, and aluminum. In addressing the human figure with recycled metal, the challenge is conveying an emotional pose that is enhanced by the patina of time and adds an element of surprise without taking away from the image. These sculptures introduce emotion without facial expression while selected portions of the bodies are slightly reduced, enlarged, or distorted. The quest to answer "who we are" and "how we deal with life" is offered subtly to viewers who see a portion of themselves in every piece.
---
INFORMATION
Gallery at 48 Natoma
48 Natoma Street
Folsom, California 95630 USA
(916) 355-7285
Hours:
Monday, Thursday, Friday, 9AM-5PM
Tuesday, Wednesday, 9AM-5PM and 6-8PM
Image (top):
Dive to a Small Place
by Marsha Balian
12″x12″
mixed media: acrylic paint, assorted papers, circus memorabilia, found images, pencil and coloured pencil on paper and oil paint on wood panel
2017