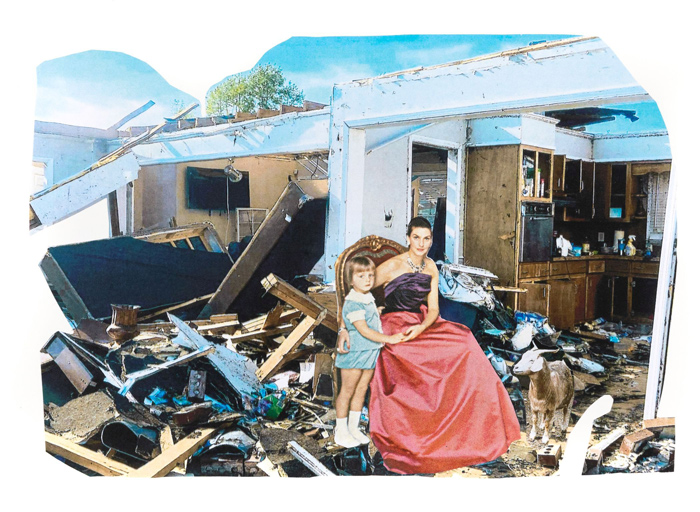 COLLAGE ON VIEW
Sharon Shapiro: Fever Dream
at Garvey | Simon in New York, New York, USA
16 January-16 June 2022
"Fever Dream" includes a selection of large-scale paintings and intimate collage works from Sharon Shapiro. Uncanny and incisive, Shapiro draws on her experience growing up female in the American South as fodder for her imagery. "Fever Dream" is at once narrative and enigmatic, engaging the viewer in a seduction while presenting a contemporary viewpoint on feminism and commentary on racial and climate crisis.
Sharon Shapiro layers elements from traditional American value sets, the artistic canon of the female nude, and surrealism to create her visual narratives. Her depictions of young women capture a transitional space in their development; they wield a power they do not yet know the extent of. Images of sheep–icons of innocence–are interjected amongst the young women, further intensifying the juxtaposition between naivety and experience. Both Shapiro's painted and collaged women are shown in relaxed, almost languid postures, reminiscent of 18th and 19th-century nude painting. Unlike their predecessors, Shapiro's women are not filtered through the male gaze and are permitted nuance and complexity. They find ease in unpredictable and brashly-toned dystopic environments and assert themselves within idyllic suburban scenes. Shapiro's depictions of women in pairs further challenge traditional modes of isolation and objectification. Their sense of independence and vulnerability is bolstered by camaraderie.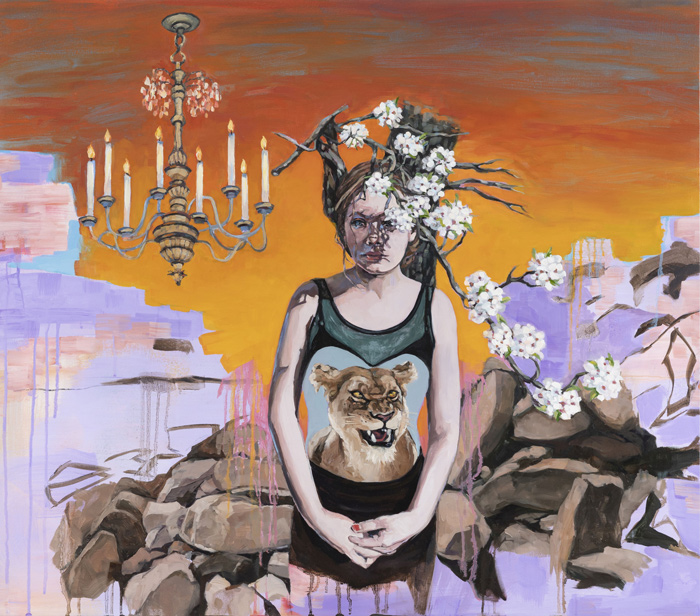 Shapiro's settings for her visual narratives range from rough and dilapidated to pristine upper-middle-class suburbia. These spaces act as air-tight dioramas in which Shapiro experiments with and conflates indicators of time. Homes collapse, foliage grows wildly, pools fill with murky, green water, and colorless vintage images collide with vibrant modern ones. Shapiro's perplexing convergences serve as a reminder that current ideation cannot exist without the passage of time or the intrusion of memory. No moment exists in temporal isolation. She further destabilizes the viewer with drips, sprays, and streaks of hot, electric color. Despite the chaos around them, Shapiro's young women appear unaffected. Whether they are blithely unaware or reveling in their own power is left to the viewer to determine.
(text adapted from materials provided by the gallery)
A profile of Sharon Shapiro, "Tread Water", by Elyana Shamselangeroodi appeared in Kolaj 32.
---
INFORMATION
Garvey | Simon
Artisan Lofts
143 Reade Street
New York, New York 10013
(917) 796-2146
Hours:
Exhibition on view by appointment only. Please call (917) 796-2146 to make an appointment.