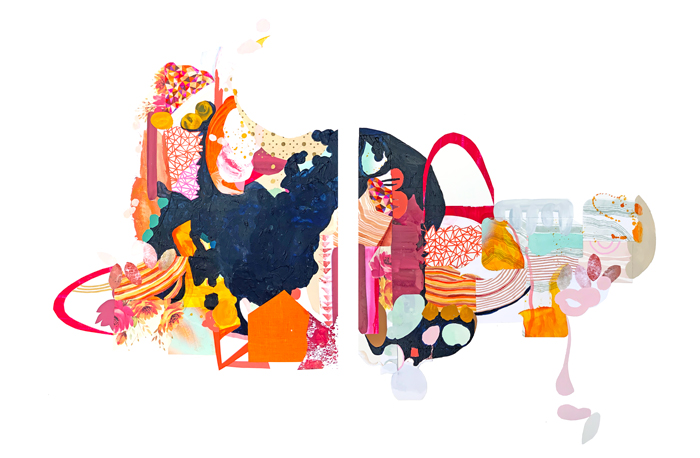 WORLD COLLAGE DAY 2022
Announcing the 2022 World Collage Day Poster Artist
The Renaissance was an amazing time, a profound leap forward in art, architecture, philosophy, literature, music, science…nearly all aspects of human endeavour. While the focus of that history is on Europe, the wealth and knowledge that made the Renaissance possible came from Asia, Africa, the Islamic World, and the Americas. One of the greatest gifts of that time was a philosophy of humanism and the belief in the agency and potential of human beings. A door to human liberation opened by Islamic philosopher Al-Jubba'i nearly five centuries earlier, humanism flourished during the Renaissance and the capacity to understand one's own humanity expanded exponentially. The thing is, if you were living during that time, you didn't know it was a Renaissance. The term wasn't coined until the French historian Jules Michelet wrote about the period in 1855. The other thing is that the Renaissance would not be possible without the crisis of the Late Middle Ages and the political chaos, plagues, climate change, and famine. From destruction comes creation. Or as the Indian writer Amish Tripathi said, "Creation and destruction are the two ends of the same moment. And everything between the creation and the next destruction is the journey of life."
Are we in a period of renewal or are we in a time of crisis? With the ongoing pandemic, corrosive politics, impending climate disaster, and deep social strife, it can certainly feel like we are in the latter, but we don't know the time we live in. It takes decades for humanity to develop enough perspective to apprehend human events. Living through difficult times requires hope. Despair is the enemy of progress. The circumstances of time don't change on their own. Times get better when enough people believe a new way forward is possible. Hope is not a divine gift. It demands that we hold on to joy, resist the temptation to give into defeat, and think up new solutions to our problems. When Burmese artist San Zaw Htway was imprisoned by Myanmar's military dictatorship, he made collage from food wrappers, plastic bags, and other refuse he could find. He did this because he wanted to show other people that his jailers could not break his spirit, that even in the worst situation he could still make art, that his humanity was still intact, that he held onto hope. He was saying to his fellow citizens: Look, they cannot win. The human spirit can resist, even in prison.
At that moment of destruction and creation, art is an act of hope. As artists, we hope what we make will be meaningful to another person. Art is an act of community. Art has all the elements that fight despair: imagination, problem solving, world creation, beauty, humor…the list goes on and on. The world needs more art.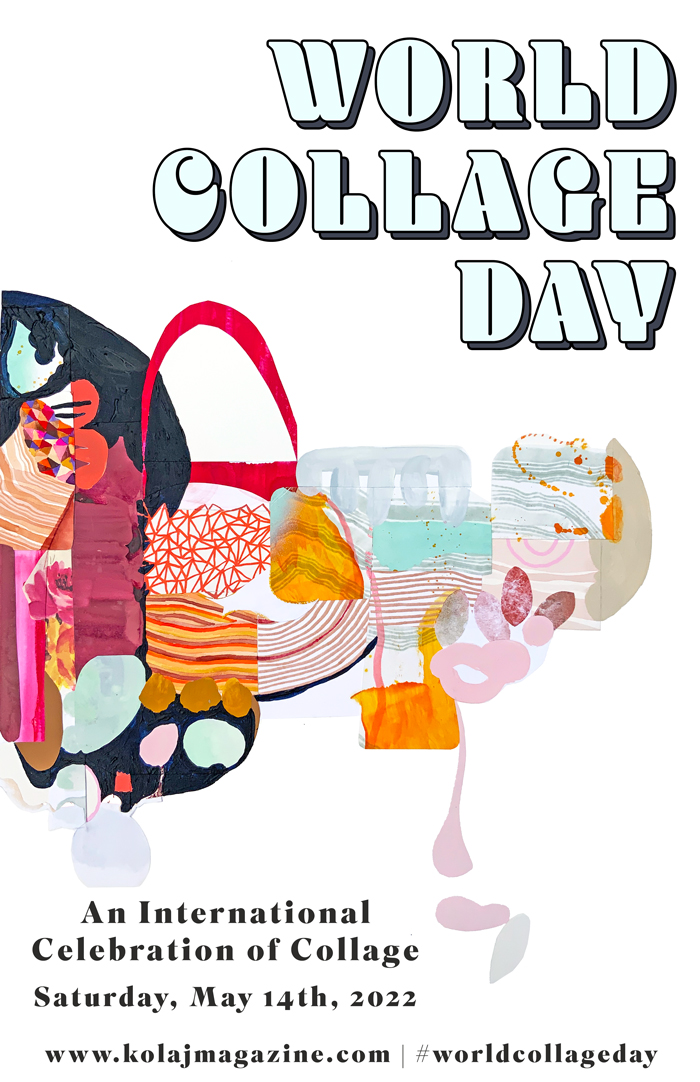 These were the things we were thinking about when we began our search for the 2022 World Collage Day Poster Artist. With hundreds of events taking place in every corner of the globe, World Collage Day is an annual, international celebration of collage on the Second Saturday of May. Each year since we founded World Collage Day in 2018, Kolaj Magazine has worked with an artist to create a poster that could be used by anyone to promote the event. Previous World Collage Day poster artists were American artist Michael Pajón (2018), Canadian artist Rosie Schinners (2019), Australian artist Emma Anna (2020), and Colombian collagist collective Red Collage (2021).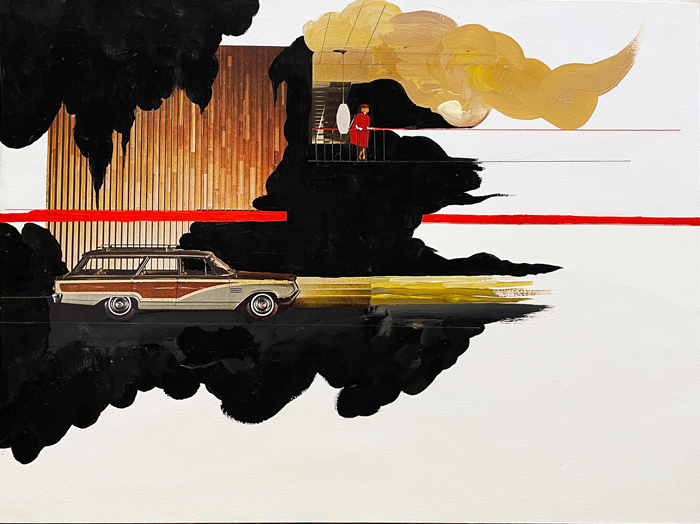 We are pleased to announce the 2022 World Collage Day Poster artist is Erin McCluskey Wheeler. Based in the San Francisco Bay Area, she is a painter, collagist, writer, curator, and teacher whose work is "all about reinvention and restoration." Often using papers sourced from other artists, her students, and collaborators, she "cuts up, groups and rearranges her paintings on paper and found papers in a process of transformation, an intentional act of breaking apart and putting things back together." We worked with her to select the diptych, Joy and Jubilee, a special collage, titled after a song by Bonnie "Prince" Billy, and made in honor of her friend, Jubilee, who died suddenly. The artist writes, "This piece started with cut up sketchbook pages from Bianca Bello, a painter and illustrator based in Brooklyn. I restored her cut up drawings (completing shapes and lines with ink and paint), and added a candy bar wrapper from Dandelion Chocolates, vintage wrapping paper, leftover pieces of bright yellow-orange grasscloth paper, and my own painted papers and layers of paint." Reuse, reinvention, restoration, and community are the ideal acts of hope to shape the spirit of World Collage Day 2022.
One side of the diptych will be used for the 2022 World Collage Day Poster and the other side will be on the cover of the World Collage Day Special Edition, a printed magazine full of Cut-Out Pages and stories from inspiring collage artists. Kolaj will also publish a set of World Collage Day postcards that feature Erin McCluskey Wheeler's "Glitter Highways" series. The collages use car advertisements to evoke the romanticism of 20th century road trips and the spirit of freedom, the openness to new experiences, and the curiosity about others they entail. An interview with McCluskey Wheeler about her work will appear in the Special Edition.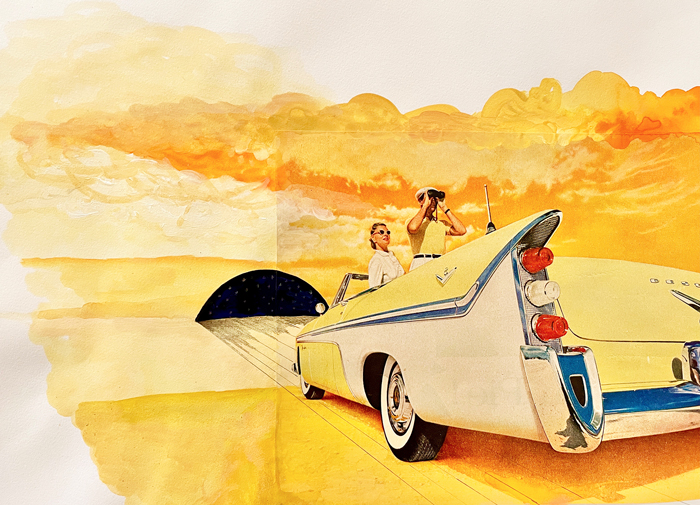 Erin McCluskey Wheeler's exhibition and collaboration with students, "This Color Reminds Me of You", is at the Lied Art Gallery at Creighton University in Omaha, Nebraska, 21 January-1 March 2022. Learn more HERE.
We invite artists to inspire others and submit a Cut-Out Page for the Special Edition. The deadline to submit is February 22, 2022. (Details are here.) We also invite you to celebrate in your own community and to plan a World Collage Day event. We invite artists, art centres, museums, galleries, schools, and communities to celebrate the day by hosting events that bring communities together. Ideas include collage making meet-ups, docent-led tours of collage in a museum or gallery, activities for kids, slideshows or talks that appreciate collage's role in contemporary art and art history, exhibitions of collage, and more. We invite people to come together around collage in their own communities and to connect to the world digitally using the hashtag #WorldCollageDay.
ABOUT WORLD COLLAGE DAY
In 2018, Kolaj Magazine initiated World Collage Day, an international celebration of collage on the Second Saturday of May. We invited artists and art venues to hold events on that day to celebrate collage. We saw fifty events in twenty-five countries and thousands of posts on social media using the hashtag, #worldcollageday. In the succeeding years, the event continues to grow. Learn more at the event's website. 
ABOUT THE ARTIST
Erin McCluskey Wheeler is a painter, collagist, writer, curator, and teacher. Erin works in many series at once and across disciplines in painting, collage, works on paper, prints, and poetry. There is always a careful attention to placement, selection, and adjacency in both her writing and her visual art. Each medium, with its different qualities, allows Erin to explore ideas about memory, language, color, and place, while retaining a unified voice that reflects on the power of color and connection. Learn more on the Kolaj Magazine Artist Directory and at www.erinmwheeler.com.