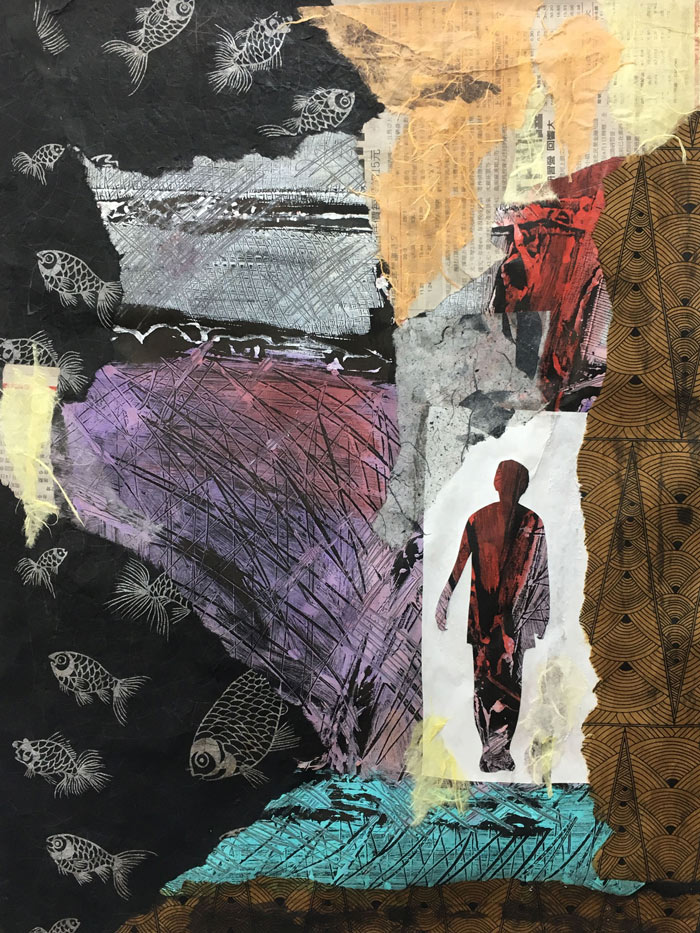 COLLAGE ON VIEW
"Journey": Joani Share
at Olson Realty Gallery in Benicia, California, USA
15 January-13 April 2018
Joani Share says about the work in "Journey":
I often wait and observe the world around me before I venture into it. Some may think of this as being standoffish or distant; to me it is simply taking it all in and trying to make sense of it. The work in this show reflects my observations of the way people interact with each other, sharing ideas on the surface, but never sure how they will be received–accepted or rejected? Sometimes I think one needs a road map to navigate the "journey" which we call daily life.
Artists are often asked, who or what has influenced your creative process? I am often drawn to certain imagery – simple shapes, forms, colors and textures. I have long been influenced by African art: sculptures from Sierra Leone, masks from Nigeria, and carvings from Ghana. I am intrigued by the paintings of Francis Bacon, Fritz Scholder, and Alice Neel. I enjoy the simplicity of form created by the work of Modigliani and the paper cutouts of Matisse.
The human figure is my creative source of imagery. My figurative work is purposefully ambiguous. "Characters" in my paintings are often not explicit as to gender, race, colour, ethnicity, etc. Rather, my paintings encourage the viewers to make these determinations for themselves. I work on both canvas and paper and incorporate a wide variety of unique materials that I collage and manipulate to create the imagery. My surfaces may be layered with acrylics, inks, graphite and mixed media allowing for a richness of design and composition.
Curated by Grace Teo, this solo exhibition, featuring 17 works, is part of Arts Benicia Presents. Arts Benicia Presents organizes rotating exhibitions and art receptions at local businesses and City Hall. Member artists are selected for these special opportunities by the Arts Benicia curatorial team.
Learn more about the artist at her Kolaj Magazine Artist Directory page HERE.
---
INFORMATION
Olson Realty Gallery
Suite 101
920 First Street
Benicia, California 94510 USA
(707) 745-3602
Hours:
Monday-Friday, 9AM-6PM
Saturday, 10AM-2PM
Image:
Into the Light
by Joani Share
37″x29″
collaged paper and monoprint
2017