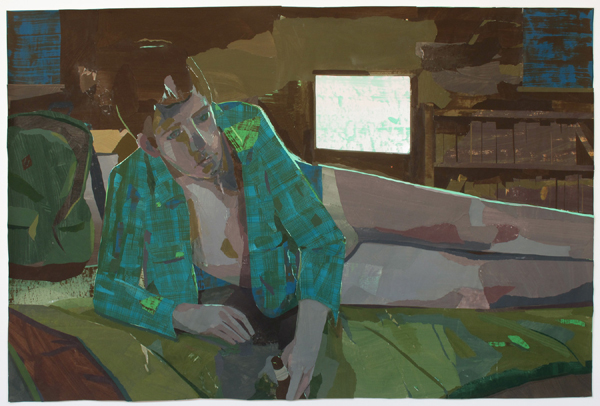 13 March-28 April 2013
Matt Bollinger: "Bed on the Floor"
He touches reality like he touches the color of the papers he paints. Then he tears them or cuts them up and glues them by progressing from the background to the surface. Therefore the coloured feeling combines with that of the material. Matt Bollinger knows stories, real-life stories that he can piece together in the slightest detail. They come to him in fragments. It starts slowly: a girl smokes a cigarette in an armchair. Two notebooks are placed on a table. The apparent banality of the scene is immediately contradicted by the aggressiveness of the colours. One understands that this way of doing things is closely linked to the intensity of an emotion, which is created by the story itself.
For Matt Bollinger, the artist is a perpetual wanderer in search of a truth that eludes him gradually as he seems to be approaching it. Therefore his only refuge is in the work that is constructed. This is probably the reason why he wished to take this rationale further, by creating a sculptural installation, an imitation of a temporary shelter made by a homeless person: an overturned supermarket shopping cart serves as its structure. This installation is the fruit of his collaboration with the artist Rachel Frank, in which each of them contributed their own artistic practices. Together, they designed a construction capable of inviting the spectator, as in the theatre, to an experience parallel to that proposed by Matt Bollinger's narrative collages: attempting, at every instant, to grasp the beginning of a new story, a true story.
Matt Bollinger was born in 1981 in Kansas City, Missouri, USA. He lives and works in Peekskill, New York, USA. He received his BFA from the Kansas City Art Institute in 2003 and his MFA in Painting from the Rhode Island School of Design in 2007. His work has been shown widely, including Paris, New York, Philadelphia, and Provincetown. His work is in the collections of the Nerman Museum of Contemporary Art in Overland Park, Kansas, USA and the Musée des Beaux-Arts de Dole, France.
(from the gallery's press materials, written by Bernard Zürcher)
---
INFORMATION
Zürcher Studio
33 Bleecker Street
New York, New York 10012 USA
(212) 777-0790
Hours:
Tuesday-Saturday, Noon-6PM
Image:
Bed on the Floor
by Matt Hollinger
48″x72″
Flashe and acrylic on cut and pasted paper
2013
Courtesy of the artist and Zürcher Studio