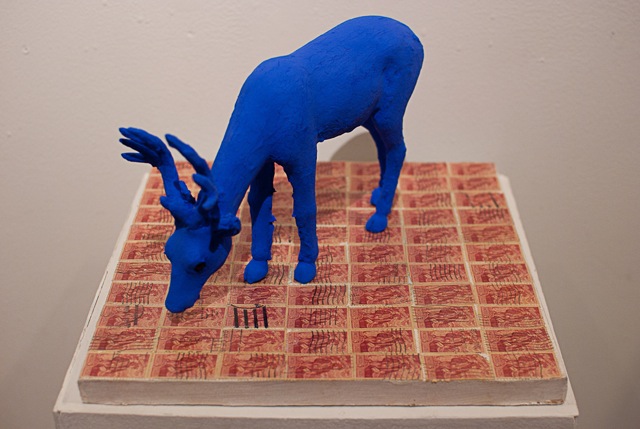 5 July-31 August 2013
"The Letters": Matthew Rose
"The Letters" is Matthew Rose's theory of everything. It's like trying to hold a glass of wine in your bare hands. It's like kissing your 5th grade girlfriend in the school closet. "The Letters" is a conceptually-based body of text works, images and objects that delve into the worlds of alphabets, letters, books, mixed messages and their meanings. The artist has mailed 333 text and collage works on paper and canvas as well as a number of terribly unusual objects over a course of several months from his Paris studio to the gallery specifically for this exhibition.
Recasting the throw-aways and detritus, the overheard and misspelled, the artist has fashioned a large expository drama that serves as fragmented window into our collective Zeitgeist. Sex, love, death, politics, aesthetics and the muddled semiotics of our age all find a place in this body of work and beckon the viewer to read, decipher and unravel. The pieces in The Letters resonate with an enigmatic poetic presence. The result is a significant body of work by an important American artist.
Matthew Rose lives and works in Paris, France. Known widely for his collage works and wall-to-wall-to-ceiling-to-floor installations, the artist graduated from Brown University (1981) with a degree in Semiotics/Linguistics. Over the years he has long pulled the weeds on words and meaning, pruning images with a willful imagination. Influenced by Americans Ray Johnson, Jasper Johns, Joseph Cornell and a handful of French surrealists, Rose works late hours ripping apart paper and bits of text to remake contemporary life into a specific, yet unbound book, what the artist calls his "theory of everything."
In 2009, Rose curated A Book About Death (ABAD), an unbound, limited edition book on the subject of death at the Emily Harvey Foundation Gallery in New York. ABAD was a mail-art homage to two influential New Yorkers and friends, the late artist Ray Johnson and the late Fluxus art dealer Emily Harvey. Each artist participating contributed a page in the edition. While ABAD included work by many notable artists like Yoko Ono and Geoffrey Hendricks, the exhibition became a sort of conceptual collage attributable to Matthew Rose. The Museum of Modern Art and the Los Angeles County Museum of Art acquired and archived complete sets of the "book." The ABAD project continues via artist curates around the works – its 27th exhibition takes place this year in Australia.
(adapted from the gallery's press materials)
---
INFORMATION
Converge Gallery
140 West Fourth Street
Williamsport, Pennsylvania 17701 USA
(570) 435-7080
Hours:
Wednesday, Thursday, and Saturday, 11AM-7PM
Friday, 11AM-9PM
and by appointment
Image:
Dear Dante
by Matthew Rose
installation
Courtesy of the artist