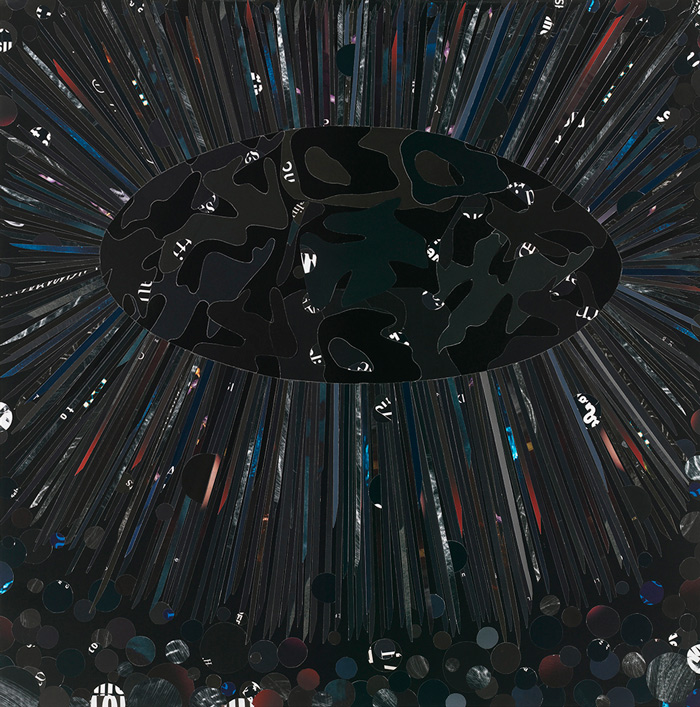 COLLAGE ON VIEW
Messenger
at Van Der Plas Gallery in New York, New York, USA
3-26 February 2023
"Messenger" presents a selection of diverse graffiti and street artists whose work has appeared predominantly in New York City from the 1970s until today. This group highlights artists who have made their voices known by way of public space. The street is a conduit for expressing themselves and conveying their truth to a broader audience. They speak to passersby as well as the knowledgeable connoisseur. Through materials such as spray paint, found subway 'wet paint' signs, advertising images, or religious motifs, they broadcast a multiplicity and multiformity of messages. Al Diaz's work In the Future All Art Will be Fake (2023) sheds light on the overcommercialization of the art world through the lens of art history. Bill Blast's The Element of Air (2012) speaks to the levity and positivity of street culture. Cope2's 23rd street 1 line subway sign Yellow cope2 bubble (2023) is an expression of his prolific authentic style seen across cityscapes by international audiences.
Methods of tagging and use of found materials possibly go against traditional norms, and the work in this show also takes the spirit of breaking new ground whether it is a hidden message, something political, or emotional. Graffiti artists are known to create unique languages to speak to each other one tag at a time without their communications being known to the authorities. A lot of the artists started out by not asking permission and not asking to be shown in the traditional gallery system. Many of the motifs speak to the resistance of oppression, be it through capitalist production or hegemonic belief systems.
By doing so, artists become writers of the street. They create conversations across the landscape of the city by forming beautiful tableaus or perhaps embedding the city within the work as a marker in time and history. If you happen to encounter more than one of them in the street, you will find the aesthetics of each work creating a narrative, which surpasses the singular message of pieces that are normally caught by chance. The exhibition is an opportunity to relate to these artists on another level and focus on who they are as individuals. Bringing their art into the gallery does not intend to strip the context of their work. It is a moment to call the viewer into deeper contemplation of the human experience. Through their concepts and aesthetics, the works and artists in this exhibition speak volumes through the medium of street art.
(text adapted from the gallery's press materials)
---
​INFORMATION
Van Der Plas Gallery
156 Orchard Street
New York, New York 10002 USA
(212) 227-8983
Hours:
Monday-Tuesday, Noon-5PM
Wednesday-Saturday, 11AM-6PM
Sunday, 11AM-5PM