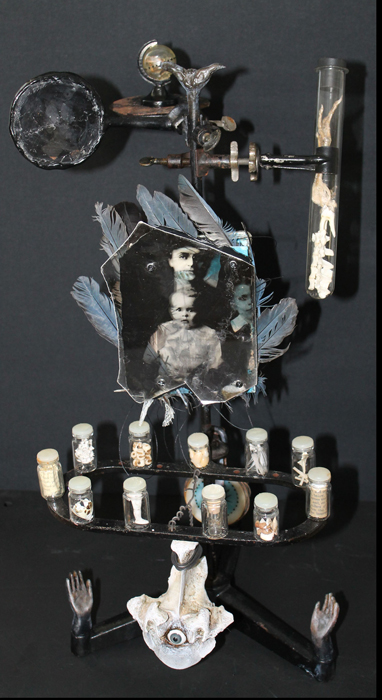 5-28 December 2014
Artist reception: Friday, 5 December, 6-8PM
"Mysterious Dances": new assemblages by Shelly Caldwell and Robyn Williams
Shelly Caldwell's current work highlights our impulse to keep trophies of the natural world while our dependence on technology spins us ever farther away from it. Her work aims to invoke the impulse to know while at the same time to cherish that which is a mystery.
Robyn Williams' most recent work continues to plumb the depths of the macabre. She likes to invoke a gasp, a raised eyebrow or a sense of the strange through pieces that have a story to tell.
Both women are Portland artists with devoted collectors.
(text adapted from materials provided by the gallery)
---
INFORMATION
Gallery 6 PDX
131 NE 6th Avenue
Portland, Oregon 97232 USA
(503) 206-7280
Hours:
Friday-Sunday, Noon-5PM or by appointment (call (503) 297-4262)
Artist reception during First Friday, 6-8PM
Image:
Weird Science
by Robyn Williams
24″x14″x6″
mixed media assemblage
Courtesy of Gallery 6 PDX, Portland, Oregon