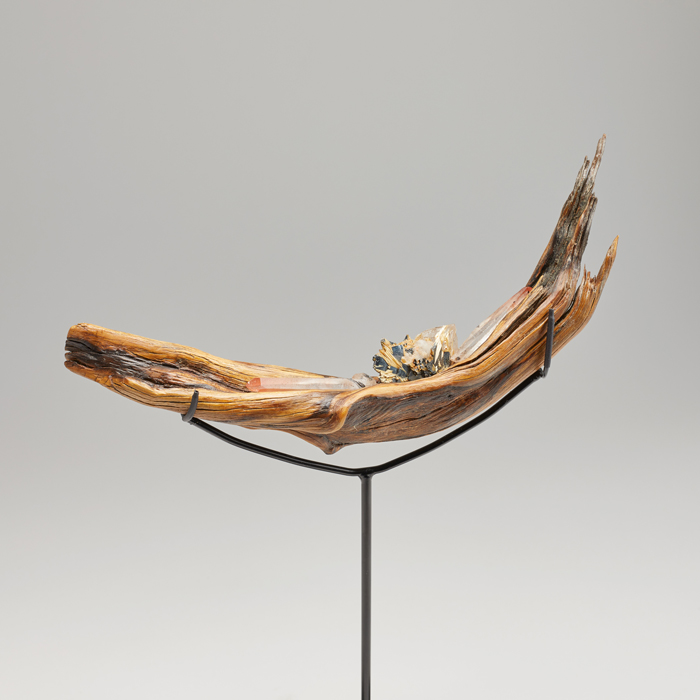 COLLAGE ON VIEW
Remembered Landscapes: The Sacred Space of Home
at the New Mexico State University Art Museum in Las Cruces, New Mexico, USA
21 January-5 March 2022
Remembered Landscapes: The Sacred Space of Home is a multimedia installation by artist Jackie Mitchell Edwards which reveals an elongated poetic search for home and healing through material and spiritual relationships with nature and landscape.
This new body of work by Mitchell Edwards was inspired by artist Nikesha Breeze's 2020 call for BIPOC artists to create metaphorical tools. "Hand Tools of Resilience", an international juried exhibition, invited artists to examine the conscious and unconscious tools that Black, Indigenous and People of Color have created to survive, thrive and build within oppressive and abusive systems. Breeze's call sparked a deeper, more focused research on the power of ritual objects within Mitchell Edwards's greater practice and the results are witnessed in this powerful installation. Mitchell Edwards's own journey as a Black woman in the African Diaspora (a term that refers to the descendants of Africans shipped to the Americas via the Atlantic slave trade) focuses on the primacy of the study of nature and other spiritual traditions. Mitchell Edwards, like Breeze, uses ritual and remembrance when creating talismanic healing objects that protect and guide one's way back to their ancestral home.
This immersive installation includes abstract paintings, altars, collage, assemblage, talismans and amulets. Crystals and minerals, bones, shells, seeds and roots from desert trees form an archive and landscape of materials used in rituals and presented to viewers by Mitchell Edwards as sacred objects that create and hold her ancestral home. Mitchell Edwards's ritual objects connect her to an ancient story defined by strength, beauty, resilience and spiritual transcendence passed down through generations across the African Diaspora.
(text adapted from the gallery's press materials)
---
INFORMATION
Mullenix Bridge Gallery
University Art Museum
New Mexico State University
1308 East University Avenue
Las Cruces, New Mexico 88003 USA
(575) 646-2545
HOURS
Wednesday-Saturday, Noon-4PM