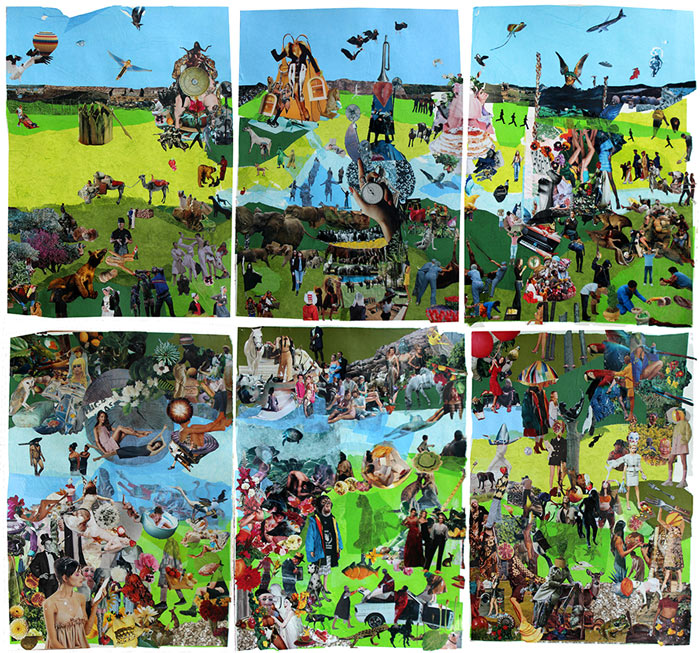 COLLAGE ON VIEW
Sublime: Nina Fraser
at Mute Gallery in Lisbon, Portugal
10 January-2 February 2019
Nina Fraser says about "Sublime": Collage, for me, is a method of negotiation in the modern world–taking into account the global nature of information, allowing the dissemination of a multitude of voices. By harvesting, fusing and re-constructing references from myriad sources, collage allows me to playfully expand from the two dimensional plane to three dimensional sculpture, using the unpredictability of the process to unearth new connections.
The work in "Sublime" presents and explores, through a variety of references including allegory and myth, our relationship with landscape, desire, and the quest for elevation out of our present circumstances through acquisition of commodities and experiences.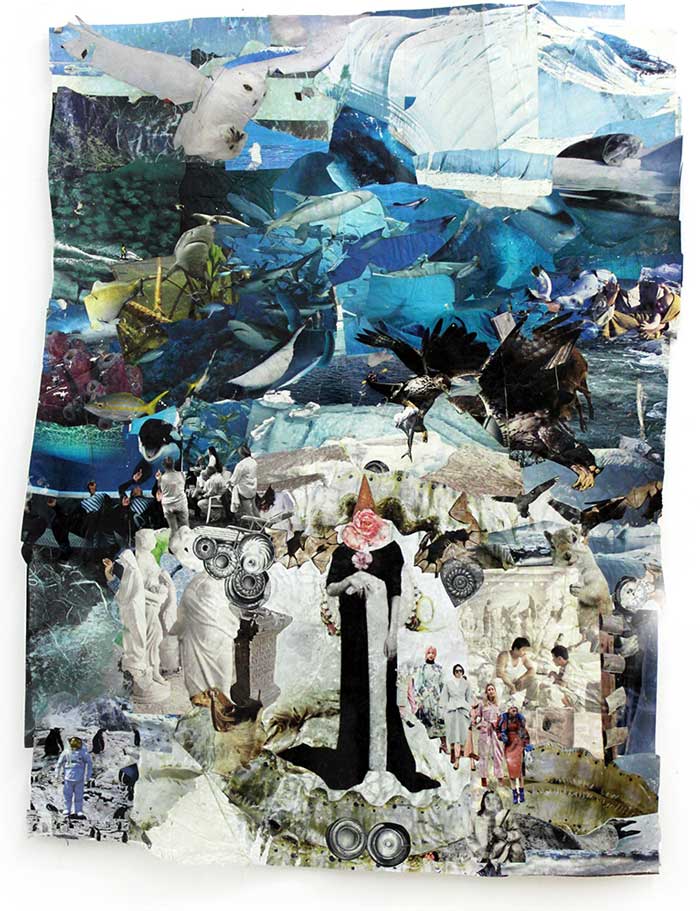 Employing found materials culled from the local urban environment, the work plays strongly off the notion of chance, carrying traces of significance in its source, whilst questioning perceived value of ownership and appropriation of another's creative property.
With an awareness of the nowness of the media, the intention of "Sublime" is, through the visual language of cut and paste, to allow the past to intrude on the present, resulting in a contemporary explosion of a modern fragmented reality, one that perpetually drives us forward only to return to the ever present moralistic dilemmas that have shaped us before.
Learn more about the artist at her Kolaj Magazine Artist Directory page HERE.
(Text adapted from the artist's press materials)
---
INFORMATION
Mute Gallery
Rua Cecílio de Sousa 20C
1200-100 Lisbon, Portugal
+351 213 422 001
Hours:
Wednesday-Saturday, 3:30-7:30PM
Image (top):
The Garden (A Manifold of Micro-creative Acts)
by Nina Fraser
2018
Courtesy of the artist
Image (centre):
Transcendental Whiter Smile
by Nina Fraser
collage, glass, wax
2018
Courtesy of the artist