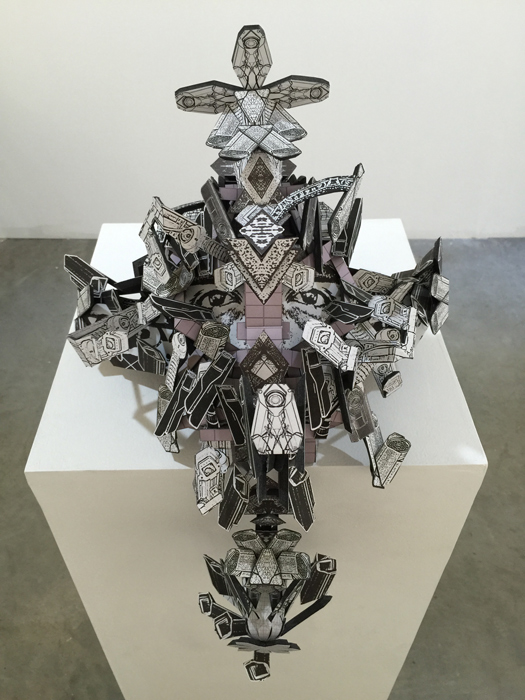 Johnny Adimando: "The Forlorn Incantations"
12 September-17 October 2015
"The Forlorn Incantations", a solo exhibition by Johnny Adimando, features works showcasing the artist's struggle from the grasp of both dogma and doubt: psychologically, spiritually and creatively. Through this recent work, Adimando looks to ritual and ritual objects, such as prayers/mantras, amulets/talisman, as well as entering the space of oracle/mystic, in an attempt to better codify and comprehend his placement in the world when the ideals held most dear are laid bare.
"The Forlorn Incantations" continues to underscore major themes present in Adimando's overall body of work (collection, escapism, protection, surveillance), but the exhibition will focus more specifically on a concept that addresses the blurred line between protection and imprisonment by way of obsessive order and feigned attempts at "perfection."
Adimando's current research focuses on the fallibility of spiritual protective gestures and manifestations; prayers, mantras, ritual objects/actions, as well as the great trust and reverence we place in these measures as conduits of divination. "I am also interested in the cloak-and-dagger of strict morals, be they artistic, emotional, familial, religious or social, and the ways in which these standards/virtues are utilized as a communion with or dispensation from the divine purview/order," he notes.
In addition to mixed-media sculptural work, "The Forlorn Incantations" includes digital photographs and videos that touch upon Adimando's experiences with bouts of familial illness, "misfortune", and feigning truth, which have led him to question the validity of living with any rigid moral distinctions and/or neatly within the parameters of prescribed virtues.
Johnny Adimando is currently part-time faculty in Printmaking and Painting at the Rhode Island School of Design in Providence. He has also taught at the Montserrat College of Art and Bucknell University.
(text adapted from the gallery's press materials)
---
INFORMATION
Yellow Peril Gallery
Suite 5
60 Valley Street
Providence, Rhode Island 02909 USA
(401) 861-1535
Hours:
Thursday-Friday, 3-8PM
Saturday-Sunday, Noon-5PM
other times by appointment
Image:
Model for a Surveillance Helmet
by Johnny Adimando
screenprint and digital prints on cut and assembled paper-foamboard
2015
Image courtesy of the artist and Yellow Peril Gallery, Providence