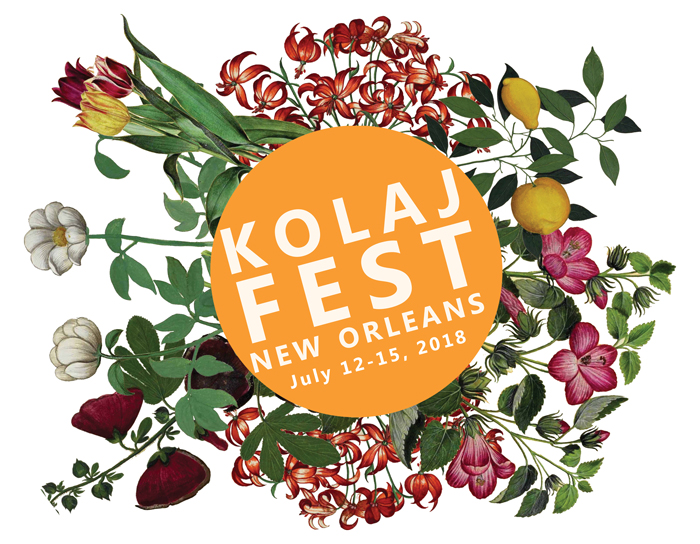 AT KOLAJ FEST NEW ORLEANS
Kolaj Fest New Orleans is a multi-day festival and symposium about contemporary collage and its role in art, culture, and society, July 12-15, 2018.
Visit the website to learn more, see an overview of the program, and register to attend.
In addition to a robust program of presentations, a number of special activities are taking place at Kolaj Fest New Orleans.
Great Collage Swap
Part show and tell and part collage exchange, those who attend the festival are invited to contribute a collage and receive one in return. To participate, artists should deliver a collage to the Kolaj Fest Information Table before 10:15AM on Sunday and receive a number. During the Daily Collage Congress on Sunday, numbers will be drawn and collages will be distributed. Bring a collage or drop by the Collage Making Space to make one while at the festival.
Collage Tanzkarte: Let's Play a Game
A Tanzkarte is a dance card, once used by German women to record who they danced with at a ball. At Kolaj Fest New Orleans, we've turned the idea into a game. In your registration packet, you will receive a card with a list of five names of other people attending Kolaj Fest New Orleans. A collage of one of the presenters is on the front. Your mission, if you choose to accept it, is to meet those five people and ask them to sign your card. (You can replace one name with two alternates.) You also need to identify the artist whose image is on the front. When you complete your task, return the card to the Kolaj Fest New Orleans Info Table. Everyone who completes their Collage Tanzkarte will be mailed a pack of Collage Artist Trading Cards after Kolaj Fest New Orleans and one person will be drawn to win a complete set of Kolaj Magazine, all 23 issues!
Made at Kolaj Fest
In conjunction with "Revolutionary Paths: Critical Issues in Collage", a curated exhibition at Antenna Gallery, we invite you to include work made as part of Kolaj Fest New Orleans. Those who make art in the Collage Making Space will be invited to include their work in the exhibition. Lines are installed at Antenna Gallery and clips are available. All you have to do is stop by Antenna Gallery and hang your work. If you would like your work back at the end of the exhibition, please write your name and address on the back of the work, otherwise the work will become part of Kolaj Magazine's collection at the end of the exhibition.
Collage in Animation
Animation will be screened at various times throughout Kolaj Fest New Orleans. The series is curated by Lisa Barcy who is also on the panel, Moving Cuts: Collage in Animation.
Artist Projects
You can read about the The Seaside Fleet (New Orleans) by JRC HERE and The Dystopian Reader by Rosie Schinners HERE.
More Information
EVENT | FAQ | PROGRAM | HOTEL | SPONSORS | REGISTER NOW