COLLAGE NEWS
Winners Are Announced for the Doug & Laurie Kanyer Art Collection Purchase Award at Kolaj Fest New Orleans
Doug and Laurie Kanyer, in their desire to support artists and advance a deeper understanding of collage, are building a collection of collage art. Prior to the 2019 edition of Kolaj Fest New Orleans, the couple worked with Kolaj Magazine to promote a call for submissions from those artists attending the event in 2018 or 2019. The Kanyers have made their selections.
The recipients of the Doug & Laurie Kanyer Art Collection Purchase Award at Kolaj Fest New Orleans are: Danielle Cole; Sarah Cowling; Teresa Cribelli; Ben DiNino; FANCLUB13; Norah Lovell; Miguel Ontiveros; Kelly Schaub; Rosie Schinners; and Dafna Steinberg.
To make their selection, the Kanyers developed a list of thirty criteria and studied the biography and online presence of the artists. "We are mounting a collection that speaks to the historical significance of collage from 1980 to the present," said Laurie Kanyer. "We are being selective and strategic in building a collection for now and the future. For each artist who submitted, we used these criteria and conducted a deep study of each artist to inform our choices."
Their research attempted to evaluate the historical value of the work, its critical context; the overall practice of the artist, or how the work demonstrated a use of the medium. "We asked, how has this artist developed a signature look, style and format to their work? While it is expected the look of the work will evolve overtime does this piece to be purchased illustrate an esthetic that is recognized and attributed to this artist," said Kanyer. They also considered the artist's role in the international collage community. "We wanted to see if the artist was involved in a collective or large scale collaborations." In looking at criteria like how the artist markets or publishes their work, or their involvement in the broader collage movement, the Kanyers were trying to identify those artists whose impact goes beyond their immediate community.
"I was excited to work with the Kanyers on this Purchase Award as part of Kolaj Fest New Orleans," said Kolaj Magazine Editor Ric Kasini Kadour. "The care and thought they put in to making their selections demonstrate an intention to create a collection that documents collage while supporting artists and raising their profile."
The Kanyers plan to continue their deep research into artists and their practice by collecting career information about the artists. In addition to a forthcoming website, they plan to incorporate exhibitions and publications in future programs. "We want this collection to be a tool for curators, researchers, and artists who wish to deepen their understanding of collage as a medium, genre, and community," said Laurie Kanyer.
The Kanyers selected approximately a quarter of the work submitted. For some artists whose work were not selected, they plan to reach out to them, continue to follow and research them, and collect a work in the future.
"These works will be added to an established collection of art dating back to 1978. They will be included in the collage arm of the collection, which currently consists of 21 collagists from North America and Europe. At present, the collection boasts a total of 103 original collages dating back to 1980. We will now have a total of 113 colleges. The bulk of our acquisitions for the rest of our lives will be collage," said Kanyer.
About the Doug & Laurie Kanyer Art Collection
The mission of the Doug & Laurie Kanyer Art Collection is to support artists while creating a record of artists working in collage. The collection is a tool for curators, researchers, and artists who wish to deepen their understanding of collage as a medium, genre, and community. Acquisitions are made on an ongoing basis, in response to public calls to artists and through private inquiry. The collection will be published and available online and public presentations will be made through various exhibitions. kanyerartcollection.com
About Kolaj Fest New Orleans
Kolaj Fest New Orleans is a multi-day festival and symposium about contemporary collage and its role in art, culture, and society. Visit the website to learn more, see an overview of the program and activities that took place. The next edition will take place July 8-12, 2020. www.kolajmagazine.com/kolaj-fest-new-orleans.html
About the Artists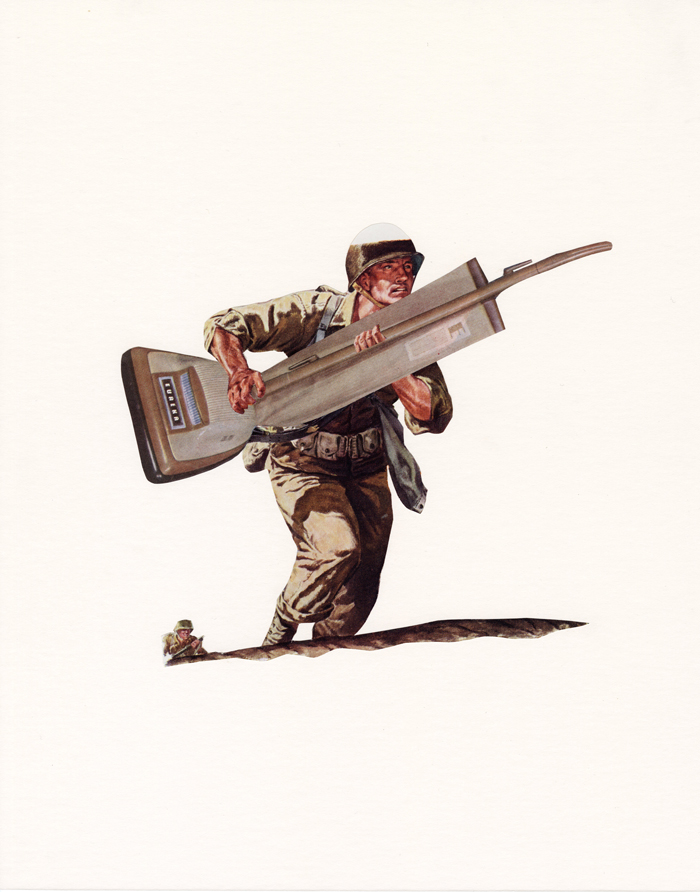 Danielle Cole
www.daniellecole.ca
Toronto-based collagist Danielle Cole has had her work featured in Kolaj #16 and in Collage Collective Co.'s book, ANNUAL 2016, as well as The Jealous Curator, and on the websites of Cicada Wheels, Cóctel Demente and Art Here. Her work has been exhibited widely in Canada, the US, Spain and Australia, where it was featured on the Series 8 label of Collective Arts Brewing beer.
Sarah Cowling
sarahcowling.weebly.com
Sarah Cowling holds degrees in history and education and has been involved in the arts since moving to London, Ontario in 1993. She is a member of the Brush and Palette Club, the Gallery Painting Group, the Lambeth Art Association and the Nine Fine Art Group. Since 2009, Sarah has been teaching at The Arts Project in London, focusing on collage and acrylic painting. She also teaches art at Guthrie's Art Supplies and Framing. Her work has been featured in juried shows throughout the London area, including two solo shows at The Arts Project in 2010 and 2013.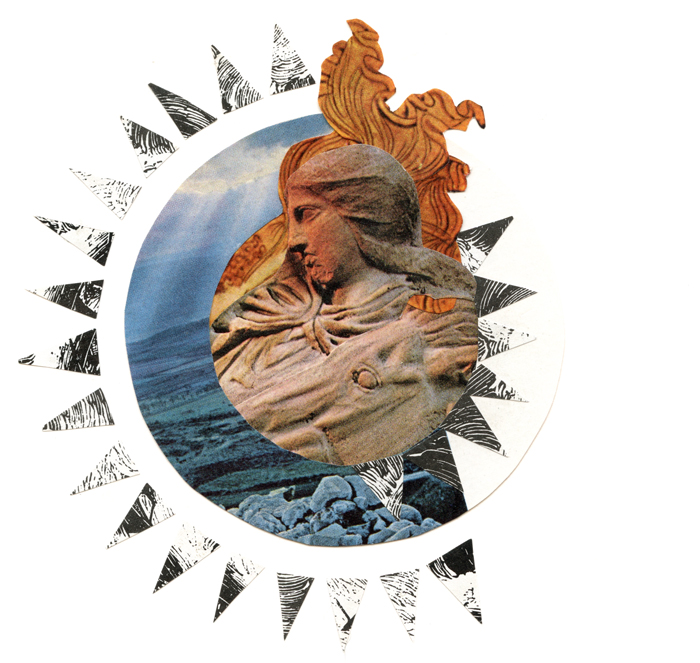 Teresa Cribelli
Instagram @tacoflotilla
Dr. Teresa Cribelli's education is based in the textual arts. She holds a BA in English from the University of Colorado, Denver and a PhD in History from the Johns Hopkins University. Her strong attraction to visual expression and collage making began at a young age. She has exhibited her work at the O'Connor Art Studio and Drish House in Tuscaloosa, Alabama. Street art pieces based on her collages can be seen in Tuscaloosa and Birmingham, Alabama; Denver, Colorado; Barcelona, Spain; and São Luís, Brazil. She is currently completing a collage-based street art installation on the history of the Black Warrior River in downtown Tuscaloosa. Her ten-year-old son often joins in collage-making sessions, and he titles many of her pieces. She currently teaches Latin American History (with a focus on Brazil) at the University of Alabama. She lives and works in Tuscaloosa.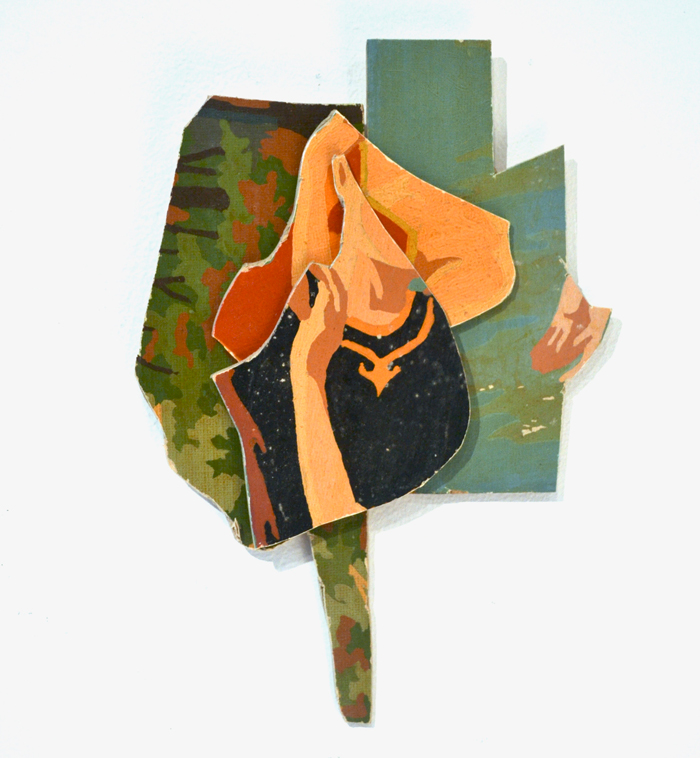 Ben DiNino
www.bendinino.com
Ben DiNino lives in Minneapolis, Minnesota. He attended Tyler School of Art graduating with a BFA in Sculpture and a minor in Art History (and a jaded disposition of the art world). Over the past 2 decades, he's worked various jobs while constantly collecting ephemera and pursuing an assortment of creative outlets. Most of the art created over these years was given away with little to no interest in promoting his work professionally.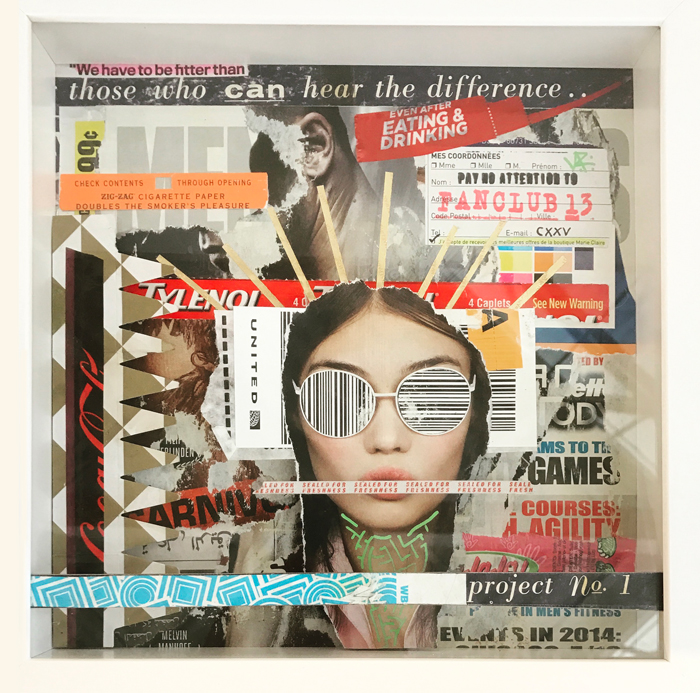 FANCLUB13
www.fanclub13.com
FANCLUB13 started doing collage seriously in 2010. As a long-time photographic artist, they were always capturing little abstract urban scenes. They started their collages using scraps of trash they found on the streets, making it into art, and then putting it back out on the street. So it's "street art" in the sense that it's left out in public illegally, but it's also made from stuff found on the streets themselves.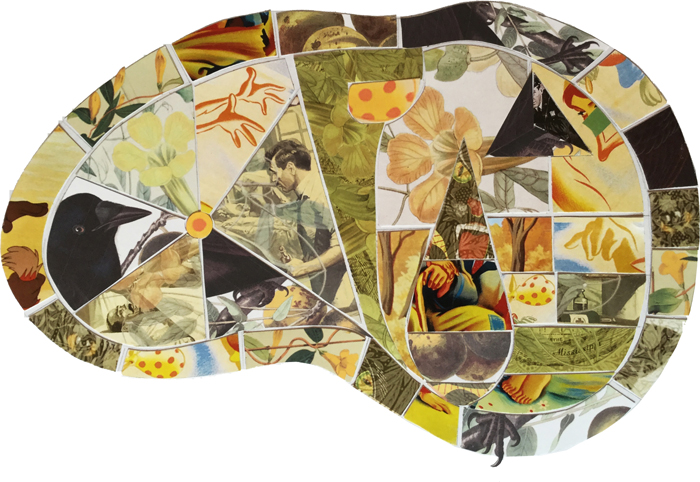 Norah F. Lovell
www.norahflovell.com
A resident of New Orleans, Norah F. Lovell is represented by Callan Contemporary Gallery in New Orleans, where she has presented several solo exhibitions, and is a member of Staple Goods collective. Her work has been shown in group exhibitions in New York, Venice, and Grand Rapids. She was selected to be part of "Convergence", curated by Deborah Willis for Prospect 3 New Orleans at the Joan Mitchell Center in 2015. In 2015, she was a resident at The Emily Harvey Foundation in Venice, Italy and at The International Scholars and Curators Program in New York City and in 2014 at the Joan Mitchell Center, New Orleans.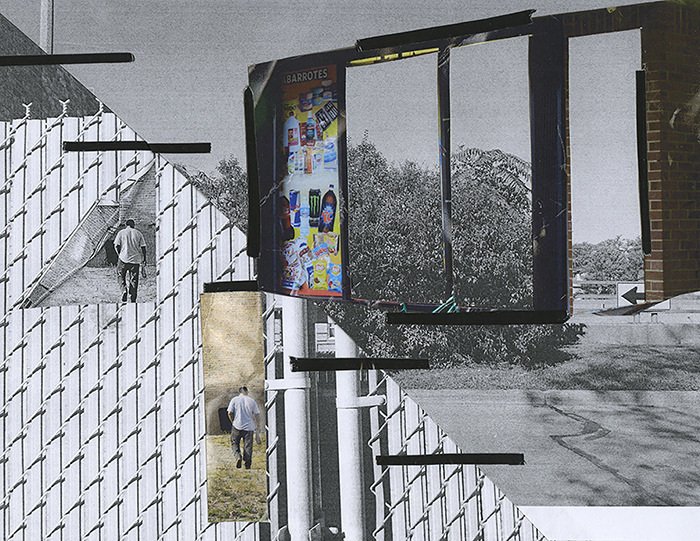 Miguel Ontiveros
www.montiveros.com
Originally from Little Village on the Southwest side of Chicago, Miguel Ontiveros holds a BFA with a focus in Photography from the School of the Art Institute of Chicago. He attended a summer residency at the Oxbow School of Arts in Michigan and screenprinted alongside Chicago's own graphic artists Sonnenzimmer. His work has been shown at SOFA Chicago and at Fiesta Del Sol. He lives and works in Chicago, where he teaches photography and sculpture to Chicago youth.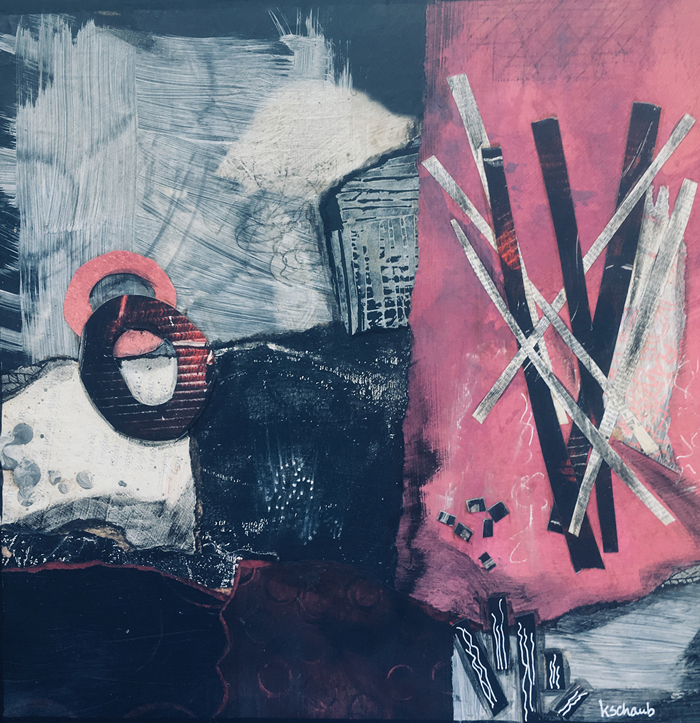 Kelly Schaub
www.playonwordsdesign.com
Kelly Schaub was a theatre artist and administrator for over 30 years. She relocated from Minnesota to Texas in 2011 and soon discovered a love of collage. As a full-time RVer, Kelly discovered Rockport as a Winter Texan, and eventually settled there. You'll see her work in Rockport, Corpus Christi, and Port Aransas, and you will often find her teaching mixed media collage locally. "I love teaching collage because it is so accessible. Anyone can cut and paste!"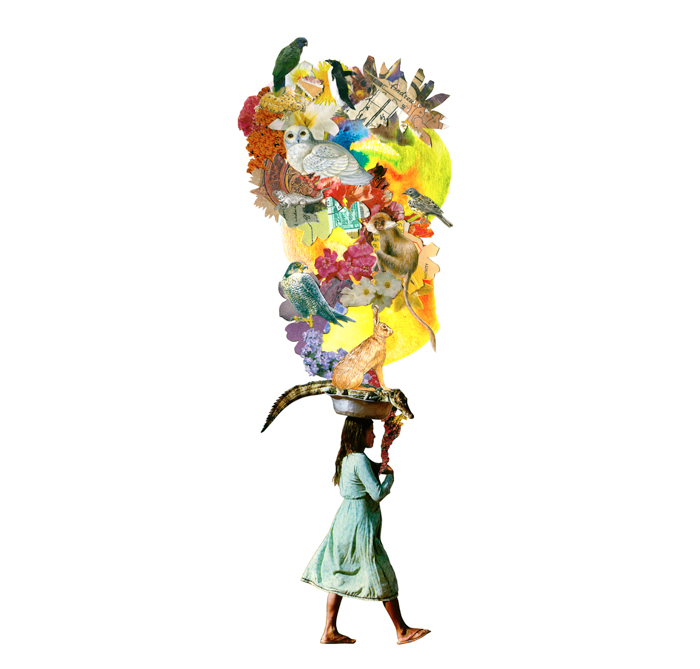 Rosie Schinners
www.rosieschinners.ca
Rosie Schinners is a collage artist who lives and works on Salt Spring Island, British Columbia. She holds a BA from the University of Guelph as well as a BFA from NSCAD University. Since childhood, she has been cutting, pasting, and leaving trails of scrap paper around the house. Working primarily with vintage print material, she combines hand-cut collage with vibrant splashes of color to bring new life to old images. Her work typically looks to explore fleeting moments of alchemy, anxiety and the human condition. Schinners' Instagram page, @thedystopianreader, has images from her current collage bookmark project, The Dystopian Reader. She was also the designer of the poster for World Collage Day 2019.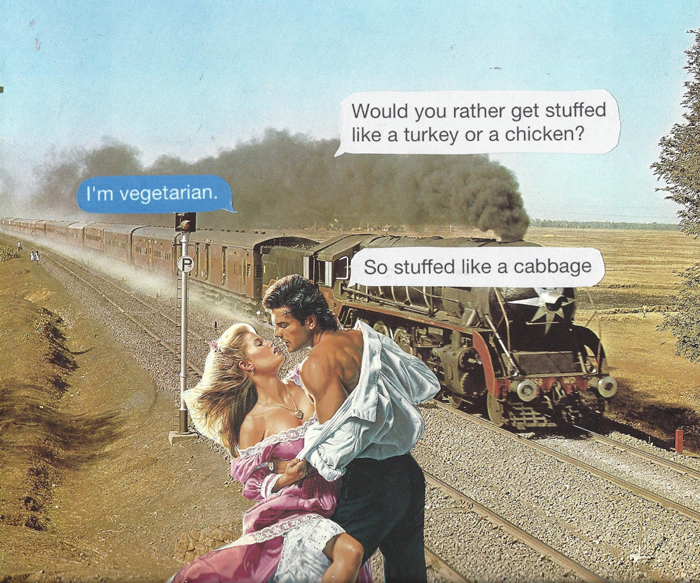 Dafna Steinberg
www.dafnasteinberg.com
Washington, DC native Dafna Steinberg studied at Hampshire College, the International Center of Photography and Goldsmiths, University of London. She has been an artist in residence at the Vermont Studio Center, Sou'wester in Washington State and Starry Night Artist Retreat in New Mexico. Her work has been shown in both the U.S. and abroad, including Los Angeles, Miami, New York, Portland, San Francisco, and Washington, DC. She lives in Washington, DC and is an adjunct faculty member at Northern Virginia Community College.