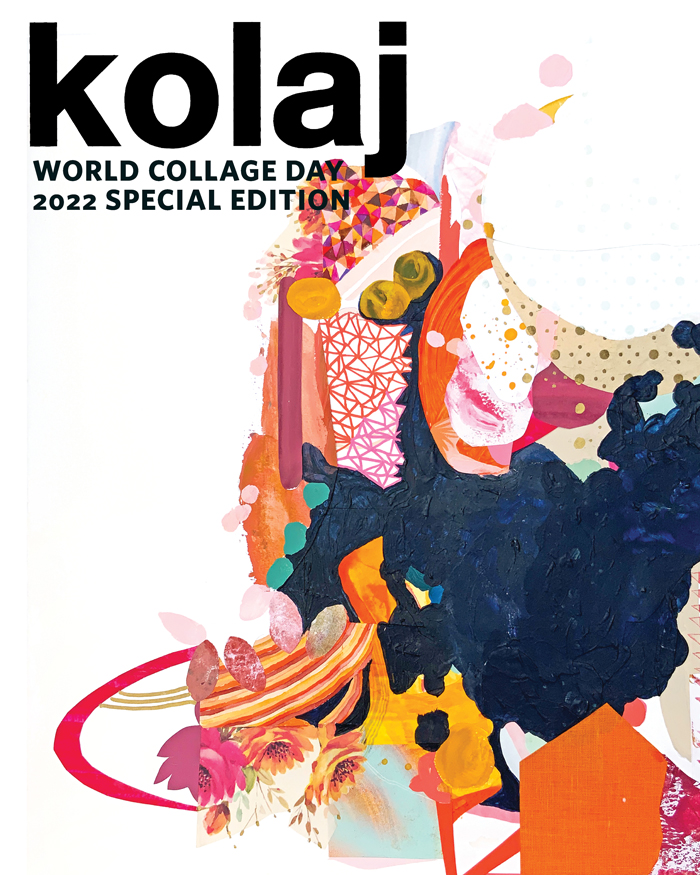 PUBLICATION ANNOUNCEMENT
World Collage Day 2022 Special Edition
In honour of World Collage Day, 14 May 2022, Kolaj Magazine is releasing a special edition of the magazine. The Special Edition is full of Cut-Out Pages and stories from inspiring collage artists.The printed magazine also includes an interview with 2022 World Collage Day Poster Artist Erin McCluskey Wheeler.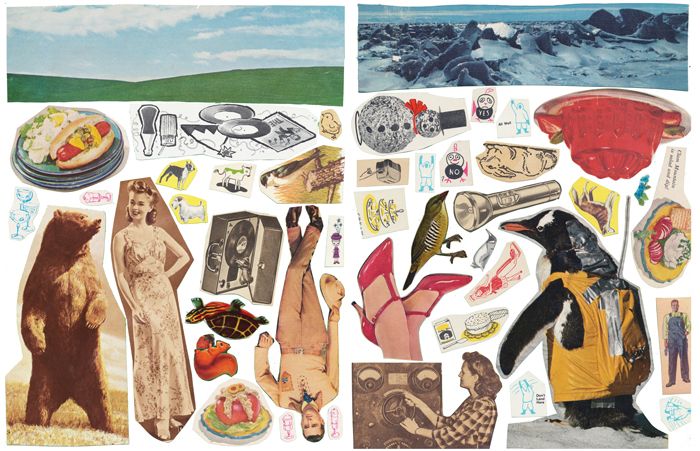 The World Collage Day 2022 Special Edition features cut out pages by eighteen collage artists from eleven countries.
Featured artists are:
AGAZART | Plymouth, England, United Kingdom
Haylie Werhanowicz | Brooklyn, New York, USA
Jessa Dupuis | Victoria, British Columbia, Canada
Ginger Sedlarova | Burnaby, British Columbia, Canada
Georgia Grigoriadou | Isle of Rhodes, Greece
Valentina Cozzi | Venice, Italy
Teresa Petersen | Detroit, Michigan, USA
Jink | Hong Kong
Jack Ravi | Kinloch, Scotland, United Kingdom
Carole Turini | Geneva, Switzerland
Oleksandra Kulikovska | Odessa, Ukraine
Alma Larroca | Barcelona, Spain
Carolina Martins | Lisbon, Portugal
Beatriz Paz Jiménez | Mexico City, Mexico
Carlo Pietrasanta | Milan, Italy
Anastasia Kirages | Houston, Texas, USA
Robyn Dansie | London, England, United Kingdom
Emily Marbach | London, England, United Kingdom
In our interview with 2022 World Collage Day Poster artist, Erin McCluskey Wheeler, the painter, collagist, writer, curator, and teacher speaks about her artwork, the "Glitter Highways" series that make up the 2022 World Collage Day Postcard Set, her approach to abstraction, and her ideas around biological optimism.
"There's this kind of magic that you can always find in nature. Even when something totally terrible happened, there, 'We're going to keep putting seeds out' or the wildflowers that only bloom after a huge fire. Those kinds of things I find very affirming and how we go through life and the sort of energy we put out there."
In News & Notes: Jack Ravi's YES YOU CAN Cans are collage starter kits packaged in tin cans. The Villagers is a book of thirty-seven fables written by writer Derek Owens and collagist Caroline Golden. The authors write, "A master of disguise tries to seduce the sun, a horticultural club tours a dream-garden, a fishwife is serenaded by a severed head, a lunar king appeals to the people of earth one last time." An exhibition of over twenty of Mark Wagner's meticulously constructed, thought-provoking and satirical collages made entirely from deconstructed U.S. dollars are on view at the Lancaster Museum of Art in Lancaster, Pennsylvania for World Collage Day. And Kolaj Fest New Orleans is taking place June 15-19th, 2022.
In his commentary, Kolaj Magazine Editor Ric Kasini Kadour writes, "The Renaissance would not be possible without the crisis of the Late Middle Ages and the political chaos, plagues, climate change, and famine. From destruction comes creation…At that moment of destruction and creation, art is an act of hope."